水冷式箱型冻水机
Water-cooled box type chiller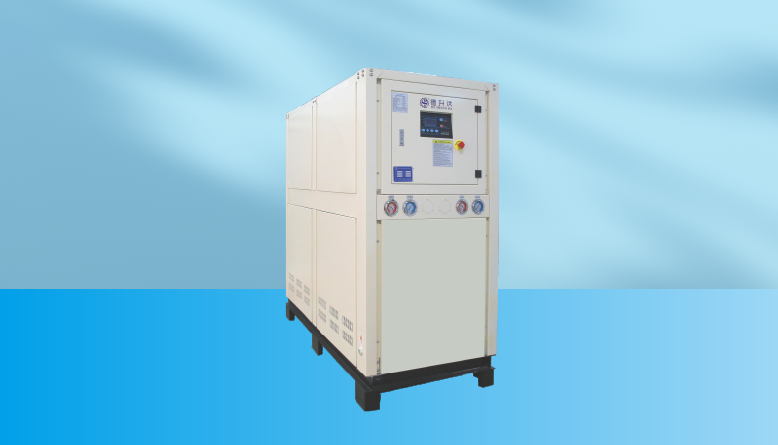 特点 Features
一.经久耐用的高能效压缩机:压缩机采用Panasonic(日本松下)、DAIKIN(日本大金)、Copeland(美国谷轮)、BIZER(德国比泽尔)等国际知名品牌全封闭涡旋式压缩机,比往复式压缩机能效高20-30%。
二.盘管式、壳管式蒸发器:采用内螺纹式增强管,冷却效果好,蒸发器不锈钢水箱以25mm厚PE保温板保温,不结露,冷量损失少。
三.壳管式冷凝器:冷凝器采用高效外螺纹紫铜,单回路和多回路设计制造,回流均匀,换热充分,设计合理科学,清洗保养方便。
四.冷冻水泵:采用木川、南方、格兰富等国际知名品牌水泵,使用寿命长,大流量,效率高,噪音低,恒久耐用。
五.保护系统装装置:压缩机延时启动保护器、过载保护器、高低压保护器、温度控制开关、防冻开关、易熔栓、电子时间保护安全阀、压缩机过热保护器、压缩机频繁启动保护器及异常指示灯,确保机组的正常运行。
六.智能电脑控制系统:高智能PLC、PC级电脑控制系统,反应灵敏,控制精准,远程监视。
七.国外进口冷冻配件:冷冻配件选用全球知名品牌EMERSON(美国艾默生),DANFOSS(法国丹佛斯)等,性能卓越,安全环保。
Water-cooled box-type water chiller
Water-cooled box type chiller
Water-cooled box-type water chiller
Water-cooled box type chiller
Features
1. Durable and high-efficiency compressors: The compressors are fully enclosed scroll compressors of internationally renowned brands such as Panasonic (Panasonic, Japan), DAIKIN (Dakin, Japan), Copeland (Copeland, USA), and BIZER (Bitzer, Germany). It is 20-30% more energy efficient than reciprocating compressors.
2. Coil-type and shell-and-tube evaporators: Internal threaded reinforced tubes are used, with good cooling effect. The stainless steel water tank of the evaporator is insulated with a 25mm thick PE insulation board, which does not condense and has less cooling loss.
3. Shell-and-tube condenser: The condenser is made of high-efficiency external thread red copper, designed and manufactured with single-circuit and multi-circuit, with uniform return flow, sufficient heat exchange, reasonable and scientific design, and convenient cleaning and maintenance.
4. Chilled water pump: It adopts Muchuan, Nanfang, Grundfos and other well-known international brand water pumps, which have long service life, large flow, high efficiency, low noise and long-lasting durability.
5. Protection system installation devices: compressor delay start protector, overload protector, high and low pressure protector, temperature control switch, antifreeze switch, fusible plug, electronic time protection safety valve, compressor overheat protector, compressor frequent Start the protector and abnormal indicator light to ensure the normal operation of the unit.
6. Intelligent computer control system: highly intelligent PLC, PC-level computer control system, responsive, precise control, remote monitoring.
7. Frozen accessories imported from abroad: Frozen accessories are selected from world-renowned brands such as EMERSON (Emerson, USA), DANFOSS (Danfoss, France), etc., with excellent performance, safety and environmental protection.