水式模温机
Water mold temperature controller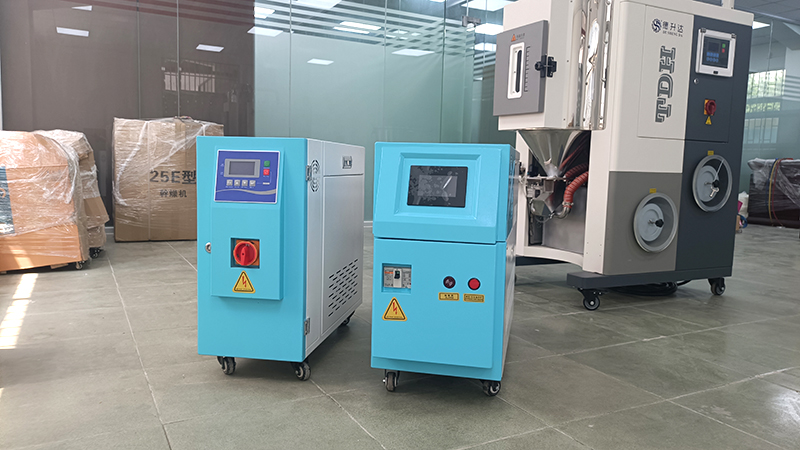 特点
A.提高成型效率:
1.成型前,DSW自动控制模温,迅速达到所需的温度且始终保持恒温,减少模具预热所需之工时。
2.可持续操作而无模具温度过高之虑,而途中停机也不致因模具温度降低而需等待升温,因此可提高生产效率。
B.提高产品品质:
1.塑料有热胀冷缩的物理特性,因此若模温不稳定或控制不当,会产生成型品夹水纹,缩水, 扭曲变形及表面光泽不良等现象,而使用DSW机型即可解决此类问题。
2.能使模具保持适当温度,大幅减少试模次数及降低成型品不良率,确保产品品质。
C.结构特性:
1.可根据需要任意选择以水或热媒油当传热介质。
2.选择配备的PID智能型自动演算的温度控制器,能准确显示和控制模具温差所需温度±1℃内。
3.两段式加热结构设计,可视所需之温度增减电力,并配合特殊之发热构造,可省时省电。
A. Improve molding efficiency:
1. Before molding, DSW automatically controls the mold temperature to quickly reach the required temperature and maintain a constant temperature, reducing the time required for mold preheating.
2. Continuous operation without the concern of excessive mold temperature, and no need to wait for the temperature to rise due to the drop in mold temperature when stopping on the way, so the production efficiency can be improved.
B. Improve product quality:
1. Plastic has the physical properties of thermal expansion and contraction, so if the mold temperature is unstable or improperly controlled, there will be water marks, shrinkage, distortion and poor surface gloss of the molded product, and the use of DSW models can solve this problem. class problem.
2. It can keep the mold at an appropriate temperature, greatly reduce the number of mold trials and reduce the defective rate of molded products to ensure product quality.
C. Structural characteristics:
1. Water or heat medium oil can be arbitrarily selected as heat transfer medium according to needs.
2. Select the temperature controller equipped with PID intelligent automatic calculation, which can accurately display and control the required temperature of the mold temperature difference within ±1 °C.
3. The two-stage heating structure design can increase or decrease the power according to the required temperature, and with the special heating structure, it can save time and electricity.
安全保护系统:
1.电源缺相和逆相保护及指示灯
2.发热圈过载保护
3.泵蒲过载保护及指示灯
4.溢油保护和预留接
5.碟阀式设计,操作和保养绝对安全
6.泵蒲反转保护及指示灯
7.缺媒介蜂鸣器警报保护及指示灯
8.内置超高温保护及温控器
9.自动回油装置和预留接口,换模时干净和不浪费
10.防爆式油路设计,操作和保养绝对安全
Safety protection system:
1. Power phase loss and reverse phase protection and indicator lights
2. Heating coil overload protection
3. Pump overload protection and indicator light
4. Oil spill protection and reserved connections
5. Butterfly valve design, operation and maintenance are absolutely safe
6. Pump reverse protection and indicator light
7. Lack of media buzzer alarm protection and indicator light
8. Built-in ultra-high temperature protection and thermostat
9. Automatic oil return device and reserved interface, clean and no waste when changing molds
10. Explosion-proof oil circuit design, operation and maintenance are absolutely safe